As smartphones replace onboard screens, they connect businesses to their drivers and put now-indispensable applications at the driver's fingertips.
In the past ten years, the massive deployment of smartphones and the Internet of Things has given professional drivers access to mobile technology that sometimes supplants onboard computers. Today's smartphones are as powerful as laptops, packed with multiple communications tools, and capable of running work applications, making them the ideal digital sidekick for the professional driver.
Most fleet management solution providers, in concert with industrial vehicle manufacturers and truck body markers, are moving telematics services to Android smartphones and tablets in the latest generation of trucks and tractor-trailers. At the same time, technology startups working to digitize RFT are churning out applications for freight search, delivery tracking, appointment booking, and eCMR. Even petrol companies and electronic toll collection operators provide digital payment and management services via mobile applications.
The smartphone: every professionnal driver's sidekick
Despite the risk of app overload slowing down some drivers, mobile's advantages are many. Smartphones extend the usable range of telematics systems beyond the vehicle itself. For instance, drivers can remotely monitor and control tractor or trailer equipment like refrigeration units, tires, doors and tailgates, and lighting, and more.
Smartphones also help them keep track of driving time and manage vacation requests. Mobile devices are handy for digitizing documents and scanning package barcodes for each operation.
In addition, they boost driver autonomy and can help them improve their skills. Daily routines are made simpler thanks to navigation assistance and apps for finding fuel stations and rest areas. Drivers can also access platforms for training and eco-driving. It's also simpler for a business to deploy smartphones instead of onboard screens since they don't need to take vehicles off the road as often and fleets of mobile devices are easier to manage and update.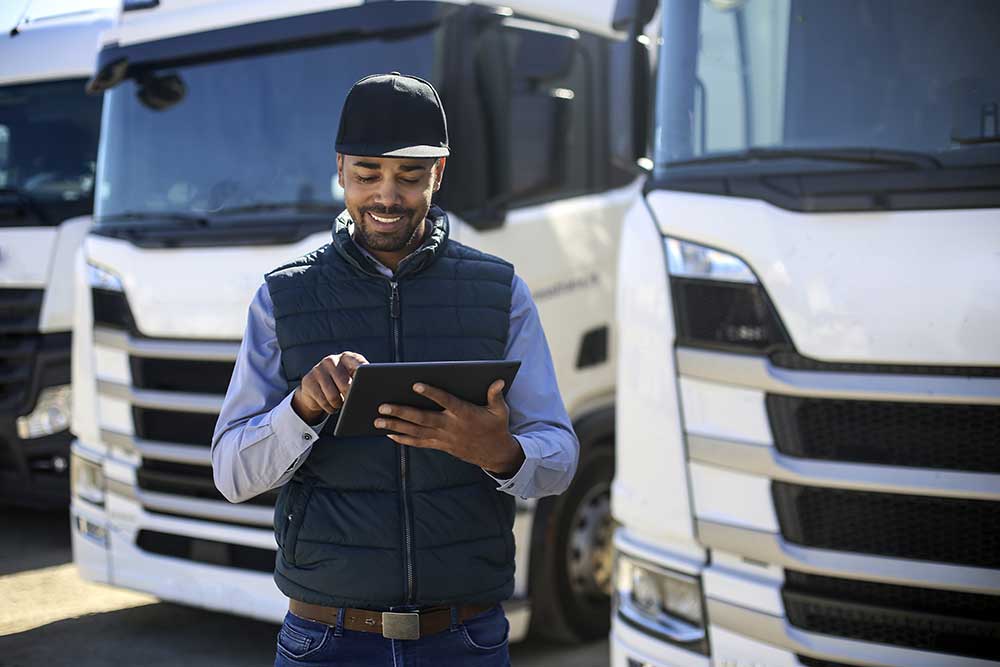 Driver Connect: Mobile Technology by Novacom
Novacom's Driver Connect app, on the market since February 2020, introduces advanced Trailermatics features. Driver Connect's ergonomic and intuitive interface provides a complete range of operational information, from job details to social and vehicle data, messaging, and navigation assistance.
The application accompanies drivers on their rounds, providing turn-by-turn guidance, showing delivery statuses, or sounding alerts if drivers exceed drive time. A real digital sidekick, the application keeps drivers connected to company systems, and vice versa. Coming soon: Driver Connect will introduce real-time display of transport temperatures and tire pressure data.