Market-leading trailer and semi-trailer manufacturer Fruehauf has signed a partnership with Novacom, supplier of the Trailermatics telematics system. The deal will enable Fruehauf customers in France to have Novacom's dedicated telematics system factory-fitted free of charge on all their new trailers and semi-trailers.
Hauliers will simply need to take out a 60-month subscription in order to join Trailermatics' existing European users who already benefit from the highest-quality trailer-specific track and trace, TPMS (Tyre-Pressure Monitoring System) and cold chain monitoring, combined with predictive maintenance and detailed reports. Under the EU's latest Global Safety Regulations, TPMS will be mandatory for trailers and semi-trailers from July 2022 but is as yet only provided by a handful of telematics suppliers.
Fruehauf customers will also have the possibility of retrofitting their existing trailers and/or replacing their old telematics systems, thereby acquiring full visibility of their entire fleet plus guaranteed consistency and regulatory compliance.
The perfect partnership for a complete telematics solution
It's no accident that Fruehauf has chosen Novacom as telematics provider. Road haulage market leader in France, Fruehauf manufactures up to 5,600 trailers and semi-trailers a year and last year doubled its exports to other regions, notably Scandinavia, Benelux, the Iberian Peninsula and North Africa. Known for the quality and reliability of its products, Fruehauf opted for a French fleet management company with a reputation to match, as their Commercial and Marketing Director Philippe Le Pochat explains:
"Fruehauf products are 'Designed to Last', and we look for the same thing in each of our suppliers. We are also a highly innovative company, at the forefront of new developments specifically designed for the haulage sector which is our core business."
Novacom CEO Joris van Woerkom adds: "We are very proud to be signing this partnership with Fruehauf – a flagship manufacturer that stands for quality and only produces the best.
"Having the Trailermatics modems factory-fitted will bring two immediate benefits to Fruehauf customers. Firstly, they will no longer need to go through the laborious process of choosing the best telematics system – they know that Fruehauf manufactures the best semi-trailers on the market and will have chosen a telematics system to match. Secondly, our modems will be factory fitted on our new semi-trailers before delivery, enabling customers to save on both costs and vehicle downtime.
"But the most significant benefits for Fruehauf customers will be over the long term, with the quality of our system's data and insights enabling them to revolutionize their fleet management and stay ahead of the curve. This is especially important for today's haulage companies, which are constantly having to look ahead and prepare for upcoming regulations, requirements and expectations."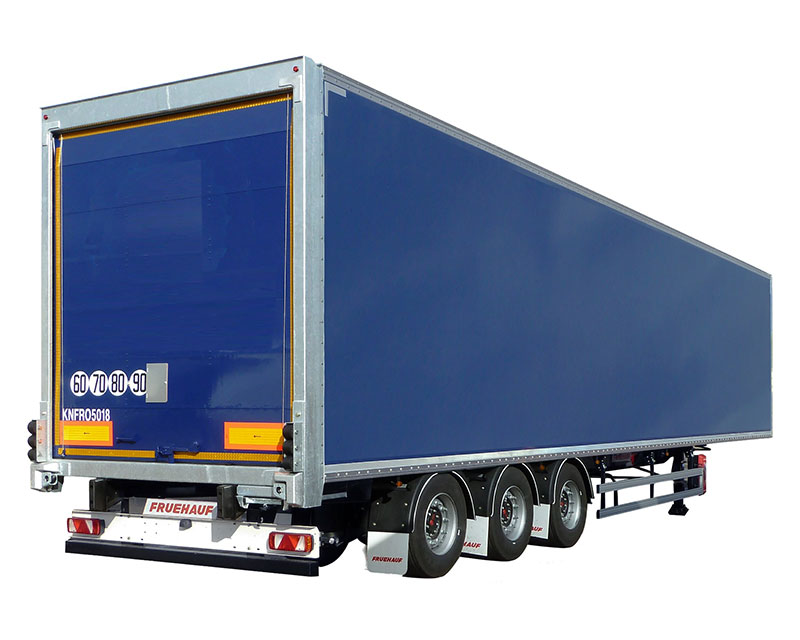 Part of CLS Group – a subsidiary of the French space agency CNES – Novacom is a pioneer in the field of connected fleet management. Founded in 2012, Novacom now manages more than 30,000 active Trailermatics subscriptions with 270 customers worldwide, including several major logistics companies. Novacom digitizes fleet management through the smart processing of telematics data and cost-effective connectivity.
Trailermatics also allows customers to efficiently integrate other telematics data and to share it with their entire supply chain via dedicated APIs that give them everyday access to a powerful and interconnected solution. Novacom employs more than 20 people at its head office in Amsterdam and its other offices in France, Sweden and Eastern Europe.
In 2019, the CLS Group's fleet management business unit generated revenues of approximately €25 million.

FRUEHAUF is a leader in the French road haulage market, with a growing international reputation. It is based in Auxerre (France), where it employs more than 700 people.
The company manufactures and markets a wide variety of semi-trailers including CURTAINSIDERS, VANS, TILT-BEDS, FLATBEDS and TIPPERS. It has also become well-known for its comprehensive range of CENTRE-AXLE TRAILERS.
FRUEHAUF has always prided itself on developing and manufacturing products that are 'Designed to Last', and robustness is their hallmark. Attentive to its customers, FRUEHAUF is constantly designing brilliant new innovations that boost safety and productivity and cut costs.
The company's Technical Sales team and specialist Dealers are constantly on hand to give advice on adapting vehicles to customers' specific needs and uses.
The quality of service provided by FRUEHAUF's extensive and unparalleled network of Service Centres is a major bonus, ensuring that customers have local access to top-notch professional servicing.